Recently we noticed that the Twitter logo was changed to a Shiba Inu Image, Musk shared a meme about the change to his 133.5 million followers on Twitter. The dog appeared only for limited time on the platform and original one restored, however as of now we can still see the doge coin logo/shiba inu image still on the site at many different folds.
By way of explaining the Doge logo change on Twitter, Musk, currently the world's second-richest person, posted a tweet Monday that said, "As promised" — with a screenshot of a tweet he had in March 2022 with a Twitter user @WSBChairman.
As promised pic.twitter.com/Jc1TnAqxAV

— Elon Musk (@elonmusk) April 3, 2023
Doge Coin Price Hike
Musk, who bought Twitter last fall in a $44 billion deal, is a well-known superfan of the Doge meme and he has promoted Dogecoin both on Twitter and during his appearance last year hosting "Saturday Night Live." Dogecoin spiked more than 30% on Monday after Twitter CEO Elon Musk replaced the blue bird on his company's website with an image of a shiba inu, the digital coin's logo. It is not clear whether the logo change is permanent or just for fun by the Elon.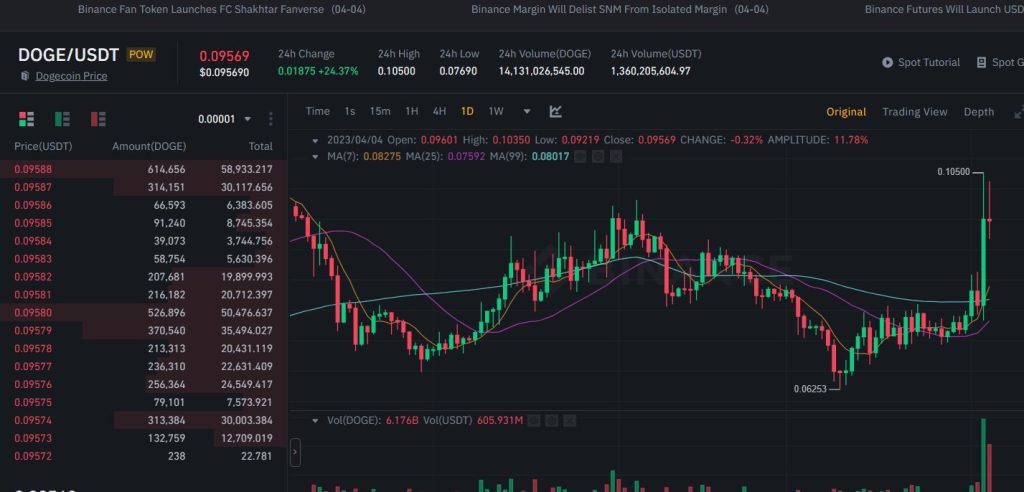 Elon Must is already facing a lawsuit in Federal Court
CEO of Tesla, Twitter and SpaceX Elon Musk is currently facing a $258 billion class-action lawsuit in federal court. The lawsuit accuses Musk of running a pyramid scheme by promoting the cryptocurrency dogecoin. Musk often voiced his support for the coin and was even nicknamed "The Dogefather. On Friday, attorneys for Twitter and Musk asked a federal judge to toss out a $258 billion lawsuit from 2022 that accused the billionaire of manipulating dogecoin's price and driving it up over 36,000%.
April 3, 2023
Musk started manipulating the price of dogecoin years ago. He periodically tweets about the token, which was created as a joke in 2013, predictably causing volatility each time. According to CoinMarketCap.com, dogecoin is the eighth-most valuable cryptocurrency, with a market cap of over $13 billion.
What is not meant to be a joke: In June 2022, Musk was on the receiving end of a lawsuit filed in the U.S. District Court for the Southern District of New York accusing him of engaging in racketeering by promoting Dogecoin. Musk's legal team filed a motion on Friday, March 31, to have the lawsuit dismissed. The timing of Twitter's icon change to the Doge suggests that Musk is trolling the litigants.
Earlier Twitter CEO Elon Musk announced that they have added support for dogecoin payments on their platform. This caused the price of dogecoin to spike by about 30%. Tesla still accepts dogecoin as payment for some merchandise. "We have not sold any of our dogecoin," Musk said on an earnings call last year. "We still have it." Musk has indicated that he personally holds dogecoin. Dogecoin rose more than 20% following that tweet.